How to Earn Money from Amazon by Writing? Don't Write for Free (2022)
Now you can easily sell poetry, textbooks, novels, journals, book series, childrens' books, comics and cookbooks in Amazon. Your work has a high chance of getting noticed in a wider marketplace without having to worry about publishing hassles.
Image source: https://www.zabisjourney.com/how-to-start-selling-books-on-amazon-using-fba/
How to Earn Money from Amazon by Writing? Don't Write for Free (2022)
We can't deny an immense influence of modern technology over our way of living since the past two decades. Technological advancement does not assist us making our life easier anymore, it teaches us how to live and fortunately or unfortunately in some peoples' cases it has become the life. The instant service and real time updates on almost everything can be both a blessing and a curse for humans. However, today we will be discussing about one of those blessings that modern technology has rained upon us and it's for all those writers who have been struggling to get their books and articles published in traditional ways.
We can find everything in the internet today, and for free. Is not that amazing? Well it's a great news if you're not a writer and are not trying to make a living out of it. But don't worry, Amazon is here for the rescue of all those worries that a skilled and passionate yet struggling writer might have. You already know about Amazon, it is a world-wide market place for sellers and buyers of anything. Amazon has converted traditional way of shopping to a whole new different level which would have been really hard to even imagine for 25 years younger us.
It has a worldwide market place and we can get everything, starting from pens, books to new tech-savvy equipment. To all those writers out there who are struggling to get publishers and sponsors for your book, you can easily sell your books in Amazon with a wonderful marketplace full of your target audiences from different parts of the world and it does not cost you a penny. Sounds too good to be true, is not it? But it is. Amazon even does your printing work and delivery, without you having to worry about the whole process.
All you need to worry about is being a good writer and writing great novels or stories or articles that you've been wanting to. If you have a skill on writing impressive pieces, stop uploading it for free in blogs or giving it away for random people for small change. You can easily get royalties by targeting audiences in Amazon. There are bunch of people willing to buy your work and wanting to read your stories world-wide. Not only that, once your book or piece of writing makes to the bestselling, there is a high probability that your next will also make it a big because those reviews and top ranks really works its charm in Amazon.
It is easy and hassle free to publish your book, however, it will be equally hard to sell the first few. Publishing books in large market place has both merits and demerits as with wider audiences, there comes a bigger competition and there are chances that your book will be stacked at some corner shelf which hardly gets picked. This is where branding and marketing comes in. Getting your works noticed in Amazon is half great writing and also half branding and marketing. You need to strategically publish and market your books rather than just only focusing on writing.
Digital and social media marketing play pivotal roles if you're publishing your works in Amazon. If you have an ability to spend couple hundred dollars, Amazon does it for you according to your needs and audiences or you can always opt out for social media marketing by yourself. You also have an option to hire some freelancers or companies that focus on digital marketing of your books in Amazon.
You can get us at this link for your personal/ professional digital marketing. We are effective and within your budget.
What can you Publish in Amazon?
Image source: https://scribemedia.com/amazon-self-publishing/
Amazon accepts various styles of writing if it's an original work. Even if you're a publisher having a copyright and distribution right of someone else's work, you can publish it to a wider market and earn some royalties through Amazon. Here is the list of some examples of writing that you can publish in Amazon under self-publishing:
Poetry
Textbooks
Novels
Journals
Book Series
Children's Books
Comics
Cookbooks
How to Publish your own Book and Articles in Amazon?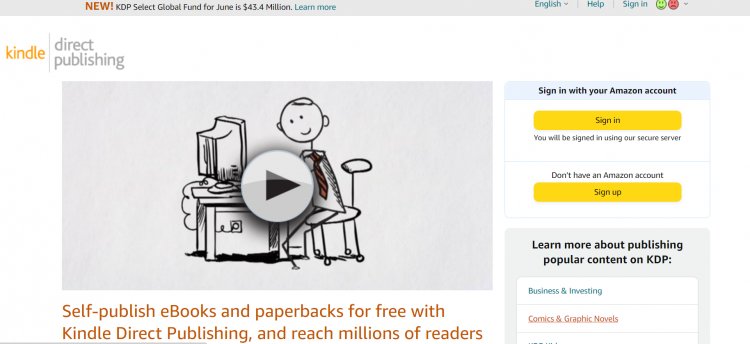 Publishing your own book and articles has never been simple and easy before. In Amazon, it is pretty simple and straight forward. You go to kdp Amazon and sign up for an author account. After signing in, you will be automatically directed to dashboard of the amazon author account and you can click on create. You also need to fill up the bank details in order to get payment from Amazon. All categories and sections of publishing process is quite clear. You can find tons of YouTube videos if you encounter any problem during uploads. Here is the link to my favorite one.