Top 10 Foods you must try in Nepal (2023)
The top 10 foods to eat in Kathmandu which are most popular are momo, thali set, thukpa, chowmin, chhoila, newari khaja set, sekuwa, chatamari, samosa, bara wo:
photo from https://ecoholidaysnepal.com/foods-in-nepal/
The Best Foods in Kathmandu: Must-try Foods
Nepal is one of the most popular countries known for its flavorsome delicacies. Many national and international tourists travel all over Nepal just to try varieties of cuisines. The popularity that Nepalese foods have gained in the world is immensely growing, all thanks to the tourists who tried these amazing foods and passed them on to their circles and also thanks to Nepalese living abroad.
Due to cultural and geographical diversity, hundreds of cuisines can be found in Nepal. Among many exotic and popular foods, the top 10 meals that are explicitly welcoming inside Kathmandu valley are Momo, Nepali Thali Set, Chhoila, Chowmin, Sekuwa, Chatamari, Newari Khaja Set, Samosa, Bara, and Thukpa.
Momo (Classic Nepali Steamed Dumpling)
Just like Italy is famous for its Pizza, Nepal is famous world-wide for its momo, a Classic Nepali Steamed Dumpling. Momo is considered to derive from Newari language 'Mome' that means cooked by steaming.
Momo can be found in every street food stalls to lavish restaurants and hotels of Nepal. Due to its simple and easy recipe, Momo is also wildly popular household food for lunch and dinner
Momo in Kathmandu is comparatively cheap as its cost varies from 50-100 Nrs. (Nepalese rupees) for one plate (comes with 10 to 12 pieces) in local stalls and restaurants. However, the prices vary in medium to high end restaurants and eateries.
The high demand of Momo lies in its authentic taste and texture. Its special spices are uniquely added that gives original mouth-watering taste to complement Nepali palate.
The Momo is widely described as juicy, tender, spicy, and tangy that comes with its own set of pickles/ chutney.
If you are in Kathmandu, you must try Momo atleast once. To experience more flavors of Momo, you must visit local to high-end restaurants.
You can make mouth-watering Momo at home from this recipe.
Nepali Thali Set (Traditional Rice, Lentil, Curry, Chutney/ Pickle)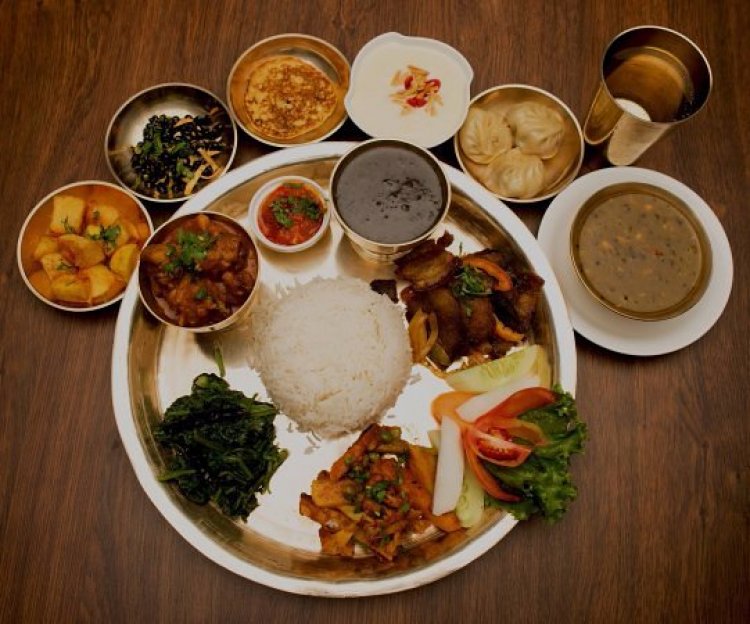 Click here for detail Nepali Thali Set.
Nepali Thali Set or mostly known as Daal Bhaat Tarkari is Nepalese main cuisine. Every Nepali has Nepali Thali Set at least once a day as it includes every nutrient needed in our body and suits Nepali palate.
The Thali Set comes with a bowl of rice, lentil soup, curry of choices (leafy greens), gravy meat (which is optional for vegetarians), mixed vegetable pickles, marinated soybean pickle, fermented dried leaf pickle, potato curry, mixed vegetable curry, papad (papadam), and yoghurt.
The set comes with various vegetables and meats and easily can be opted out according to one's taste and palate. Most Nepalese have this meal as lunch.
Taste of Nepali Thali Set is so authentic and original that even busy Nepalese living abroad try their best not to miss the meal once a day.
The price per Thali Set differs according to your choice of restaurants. However, the common price in local places vary from 250 rupees to 350 rupees per Thali (plate).
If you are in Nepal or inside Kathmandu Valley, this is a must try food that represents true Nepali cuisine and trust me, you would want more of it.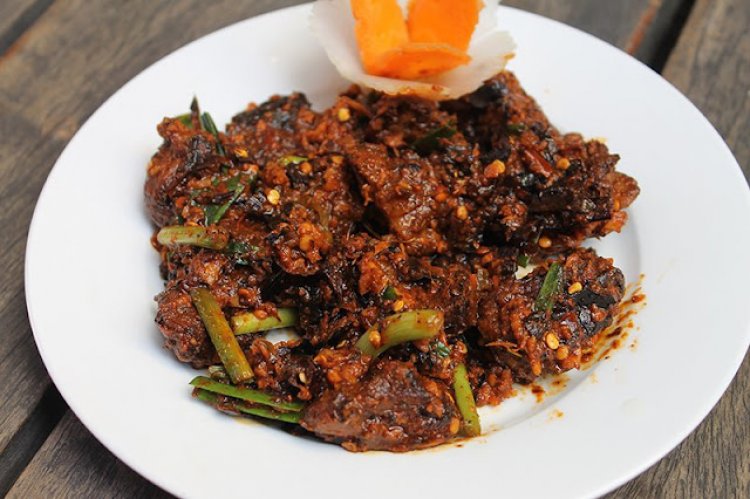 Chhoila or Grilled Spicy meat is a non-vegetarian Newari dish which is widely popular in Kathmandu and its peripheries. The most famous Chhoila in Kathmandu is Buffalo Chhoila (made of water buffalo's meat) even though there are different types of Chhoila such as mutton chhoila, chicken chhoila, duck chhoila, pork chhoila; veg chhoila as mushroom chhoila and many more.
Chhoila started as a side dish or snacks that is taken with beaten rice with local beverages as 'Chhyang' or local alcohol. The snack is popular in every corner of Kathmandu and can be easily found in every stalls and restaurants.
The prices of Chhoila varies as per the Chhoila types (meaning the meat/ veg types), but the common price per Chhoila plate is 150 rupees to 250 rupees in local to medium eateries.
If you're fond of foods and are willing to explore your palate, you definitely have to give it a shot because you never know it just might be your kind of go-to snack.
For Chicken Chhoila Recipe, you can click here.
Chowmein (Fried Noodles)
Complete guide for cooking Chicken Chowmein.
Noodles is not an unknown dish; neither is its varieties. Despite the growing demand of Noodles all over the world, Noodles is mostly popular in east to south-east part of the world. Like Momo, another most popular and go-to food of Nepali is Chowmein.
Chowmin is very famous in stalls, restaurants, and household in Kathmandu.
The fried noodles with different vegetables and meat found in Kathmandu explicitly represents Nepalese roots and popular spices.
Check out the best place for chowmein in Kathmandu city.
The cooking process and the main ingredients in Nepalese Chowmein purely indicates Nepali style and taste.
Chowmein is very accepted in growing foodie communities from all parts of the world. The taste and price of Chowim per plate differs in different places but it can be found between rupees 50 to rupees 150 in local eateries.
If you are in for spicy food rides, you must try Chowmein in different places of Kathmandu.
Sekuwa (Classic Kebab)
Among many popular non-vegetarian foods, Sekuwa is my personal favorite and go to snack. Sekuwa is a classic kebab that is roasted in a natural charcoal of wood fire in a traditional style. Since Nepalese are known for being huge meat lovers, Sekuwa became the most popular street food in Kathmandu. It is also known as party snack for households in Kathmandu.
The overnight marinated meat with spices contains extraordinary flavors with amazing taste. The taste and texture of Sekuwa entirely depends on the marinated time and spices added.
Click here for Nepalese Chicken Sekuwa Recipe.
Restaurants and eateries in Kathmandu offers various sekuwa such as Chicken Sekuwa, Mutton Sekuwa, Duck Sekuwa, Pork Sekuwa, Buff Sekuwa, Quail Sekuwa, and many more.
Compared to prices of aforementioned Foods and Snacks, Sekuwa is costly because of its relatively cooking process. The least price of Sekuwa starts from rupees 80 per plate in street stalls of Kathmandu. The per plate contains relatively lesser amount of Sekuwa.
If you are a non-veg and open for trying out different meat flavors, it is the one. Sekuwa best complements the beautiful natural heritages and sites of Kathmandu.
Without Newari dishes, your visit to Kathmandu valley is incomplete and among many Newari dishes, Chatamari stands out the most in the valley. Chatamari is an authentic and traditional Newari Nepali cuisine that is rich of flavors and taste.
It is generally popular in Newari cultural bhoj (occasions). However, it is gaining popularity in all culture and in all places inside and outside Kathmandu.
Newari Chatamari ingredients and instructions.
Also famous as Nepali Pizza, Chatamari, has many varieties like Egg Chatamari, Keema Chatamari and Plain Chatamari. However, it has very different taste than regular Pizza.
Like most of the famous street and Nepali foods, it falls under similar price range and can be found in every Newari stalls and restaurants.
Newari Khaja Set (Traditional Newari Bhoj Set)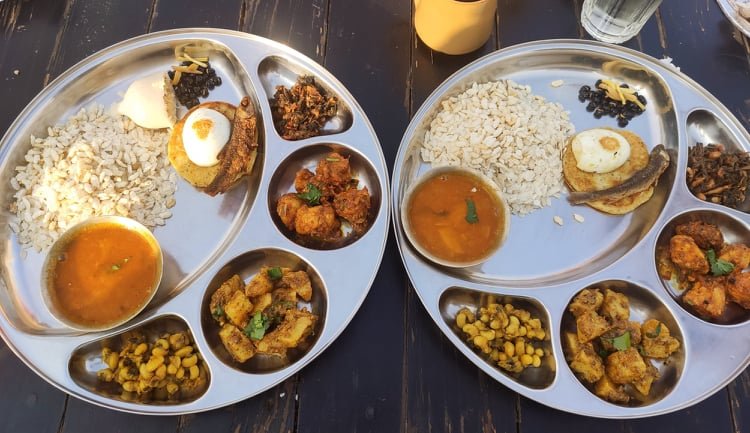 As I've mentioned before, your visit is incomplete without Newari cuisines, Newari Khaja Set must be your first try out dish in Kathmandu. Newari Khaja Set is a complete set of meal with rich nutrients and taste for both body and tongue.
Newari Khaja Set is as equally popular and available as all aforementioned foods and snacks.
The food was firstly introduced in Newari culture as in part of their special occasions for traditional reasons and later on due to its health benefits and finger licking taste it became broadly famous in all cultures and places.
Newari Khaja Set or Samaye Baji guide.
The set contains Beaten Rice, chatamari(spice seasoned pancake), Aalu Tama (Potato and Boiled Shoots Curry), chhoila(grilled spicy meat), Bhatmas (Black Soybeans), Aalu (Spicy Potato Salad), Bodi ko Achar (Boiled Beans mixed with spices), Sanya (Fried Fish), Juju Dhau (Curd Custard), Bara Wo:(Traditional Newari Pancake) , Saag (Green leafy vegetables), Khen (Boiled Fried Egg), Palu (Fresh Ginger Rhizomes), and Ayla (Traditional homemade alcohol).
Due to many varieties added to the dish, the price is relatively costly to other foods. The normal and local price of this food ranges between Rupees 250 to rupees 350.
Newari Khaja Set should be in your must try out food list while you're in Kathmandu.
Samosa (Fried Filling Pastry)
Samosa, a broadly famous Indian snack, is also really popular in Kathmandu. Since India and Nepal are neighboring countries with an open boarder, our cultures and street foods get exchanged time to time. Samosa is a crispy, flaky and delicious triangular pastry that contains flour, spiced potatoes, onions, peas, and many other main spices as ingredients.
It comes in different forms like triangular, cone, or half-moon shapes with different ingredients such as even meat.
Samosas are easily available in small stalls and big restaurants. However, to get pure taste of Samosa, you should try Indian restaurants in Kathmandu like Tip Top , Aangan Sweets, Rameshwaram Sweets and Snacks, etc.
The price ranges from rupees 15 per piece to rupees 50. Enjoy rich flavors of Samosa in so less budget if you have not tried yet.
Bara is a classic Newari appetizer that consists spiced lentil patties cooked in a thick bottomed pan. Like many other Newari dishes, Bara is really popular in Kathmandu. The dish contains lentil as a main ingredient and egg or minced meat can be added as a topping.
This is also known as Newari Pancake due to its shape and size. It can be both vegetarian and non-vegetarian according to taste and demand. Even though it came from Newari culture, many Nepalese enjoy its authentic taste.
The price of Bara ranges according to the places you're eating in. The most common price of Bara in local places starts from rupees 50 to rupees 200.
Your local Nepali Newari Cuisine food hunt is incomplete without this very dish so, give it a try today.
Here is how to prepare Bara.
Thukpa (Tibetian Comfort Noodle Soup)
Thukpa is a Tibetian style Nepali Comfort Noodle Soup that has rich health benefits and taste. The hot Noodles soup is perfect to accompany you in any gloomy and winter day. Similar to other popular foods mentioned earlier, Thukpa is go-to food of Kathmandu people in winter season just when the temperature starts to drop.
This perfect combination of noodles, spices, vegetables (onion, tomato, cabbage, mushroom, green beans, cauliflower, chickpeas, corn) and meat (chicken/ pork/ buff/ egg) is mostly popular in Himalayan regions of Nepal. The hot and mouth-watering soup should be your top listed priority foods to taste while you're in Kathmandu.
It is very commonly available and easily cooked in every household of Kathmandu. However, the taste and prices of it varies as per your choice of restaurants.
Here is a simple Thukpa recipe if you're willing to prepare on your own.
For best places to eat you can easily search in here.