Top 5 Healthy Food Delivery Services in Kathmandu (2023)
You can easily get healthy foods and meal plans delivered to you in Kathmandu through: 1. Prept Nepal 2. Fitbox Nepal 3. B-Fitnepal 4. Tiffin Batta 5. Subsmeal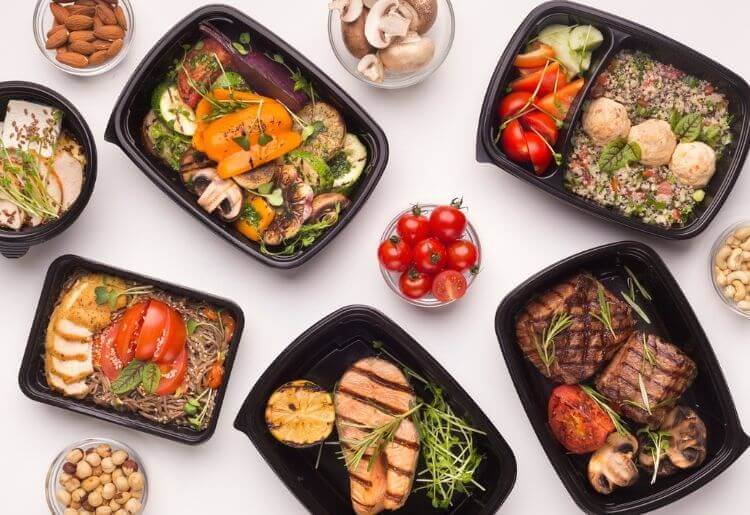 Image address: https://www.top10.com/meal-delivery/the-best-prepared-meal-delivery-services
Top 5 Healthy Food Delivery Services in Kathmandu
Overweight and obesity rate in all genders is alarmingly rising in Nepal since a decade. Nepalese used to be known for their healthy bodies, however, current scenario begs to differ. Among many, the main reasons for increasing overweight and obesity rate in Nepalese somehow reside in increased street and junk food restaurants, increased household income, escalated foodie communities, busy time schedule, climbed services, sophisticated palate, and changed lifestyles. No matter what the reasons, people are slowly getting aware about the current scenario and are willing to start new journey by accommodating healthy lifestyles.
With consideration to prevailing problems, healthy meal preparation and delivery services were introduced as a solution. Healthy food delivery services are best for people who are juggling professional-personal life at once, people not having enough time for workouts or meal prep, and people with enhanced palate. These services have certainly helped people to understand that foods should not necessarily be boring when it comes to staying fit and healthy. Daily different delicious meals having many nutritional values are sent to the customers making healthy lifestyle journey fun and exciting.
I have listed five healthy food delivery services that are currently in operation in Kathmandu valley. You can easily find their menu and prices, meal plan duration, Websites, Facebook and Instagram accounts in the following sections.
Prept Nepal is a newly founded company that delivers freshly cooked healthy meals to its customers. The company was established in the December of 2021, shortly after the Covid lockdown was permanently lifted. Despite being started for only few months now, this healthy meal and delivery service has been able to gain a lot of loyal customers. The popularity of this service lies in its broad diet services like Lean, Power, Extreme, and Keto. Unlike other healthy meal delivery companies which majorly focus on lean or weight-loss diets, this company offers different plans according to customers' requirements.
Another reason behind this company's success lie in its effective results of diet plans. Many customers including celebrities are constantly praising about its delicious meals with effective results in social media. This is the only company that offers full package of three meals per day for 30 days. Customers do not have to worry about their day-to-day three meals for a whole month if they decided to take their meal plan. Prept Nepal has following diet meal plans:
Keto Plan: for all Keto diet lovers/ Npr. 24,500/-
Lean Plan: for weight-loss/ Npr. 19,500/-
Power Plan: to maintain and balance current weight/ Npr. 21,600/-
Extreme Plan: to gain weight in a healthy way/ Npr. 24,500/-
Here is Prept Nepal's Facebook link.
The another popular delivery service that provides you freshly cooked healthy meal to your doorstep is Fitbox Nepal. The aim of Fitbox Nepal is to deliver healthy meals and provide easier approach to a better and healthier lifestyle tailored to its customers' needs. The company's meals are focused on three bases: low to no added sugar, whole grains, and calorie-planned meals. According to Denim Shrestha, founder of Fitbox Nepal, the company's vision is to become customers' first choice when it comes to health and fitness.
The company has been earning trust of many customers. We can see many people opting for Fitbox Nepal's meals over junk and street unhealthy foods. Fitbox Nepal offers five meal plans: Basic Meal, Low-Calorie Meal, High-Calorie Meal, Keto Meal, and Deluxe Meals. Unlike other healthy food delivery services, Fitbox Nepal has 15 days' meal plan and their meals are tailored on each customer's need. Here's the meal plan prices of Fitbox Nepal.
Basic Meal: Npr. 4,000/- for 15 meals
Low-Calorie Meal: Npr. 4,950/- for 15 meals
High-Calorie Meal: Npr. 5,700/- for 15 meals
Keto Meal: Npr. 5,700/- for 15 meals
Deluxe Meals: Npr. 9,450/- for 15 meals
Facebook link and Instagram link.
B-fitnepal is another healthy meal delivery company that is really popular for providing healthy foods in Kathmandu valley. The company was established in January 2022 and it has been gaining many customers inside the valley. With increasing demand for healthy foods, its sales gradually increased as well. Rather than eating out in restaurants, many people opt out eating B-fitsnepal's meals daily.
B-fitnepal has been helping many people to opt for healthy meal at least once a day to be in track with healthy lifestyle. Unlike Prept Nepal, B-fitnepal does not offer compulsory three meal a day for 30 days' package. Customers can choose a meal per day for a month. Their prices basically depend upon per meal which is Npr. 300/-.
Their prices are:
300 for one meal
3600 for 12 meals
7200 for 24 meals plus one meal complimentary so total 25 meals
For subscriptions, you will have to subscribe to 12 days minimum.
This is B-fitnepal's Facebook link.
''TiffineBatta.com is an emerging Nutritional based subscription food delivery platform dealing in an extensive range of Food menu provided on a single platform to bring a reliable, hassle-free, and convenient experience.'' The major goal of TiffineBatta is to provide ultimate modern solution for its customers to Health oriented Nutrition food problem for quality product and Better delivery service.
Website link of Tiffin Batta is here, Faceebok is link & instagram link.
Subsmeal uses only natural ingredients to make the food less processed for better breakdown in the body causing less harm. It offers various flavorful dishes which is equally healthy. Subsmeal is partnered with LEAN NEPAL to formulate and calculate the nutrients in its customers' food. Subsmeal has been continuously working towards making healthy food easy, tasty, and affordable.
Here is Subsmeal's Website link, Facebook link and Instagram link.